Treehugger
·
Written by Marie Antuanelle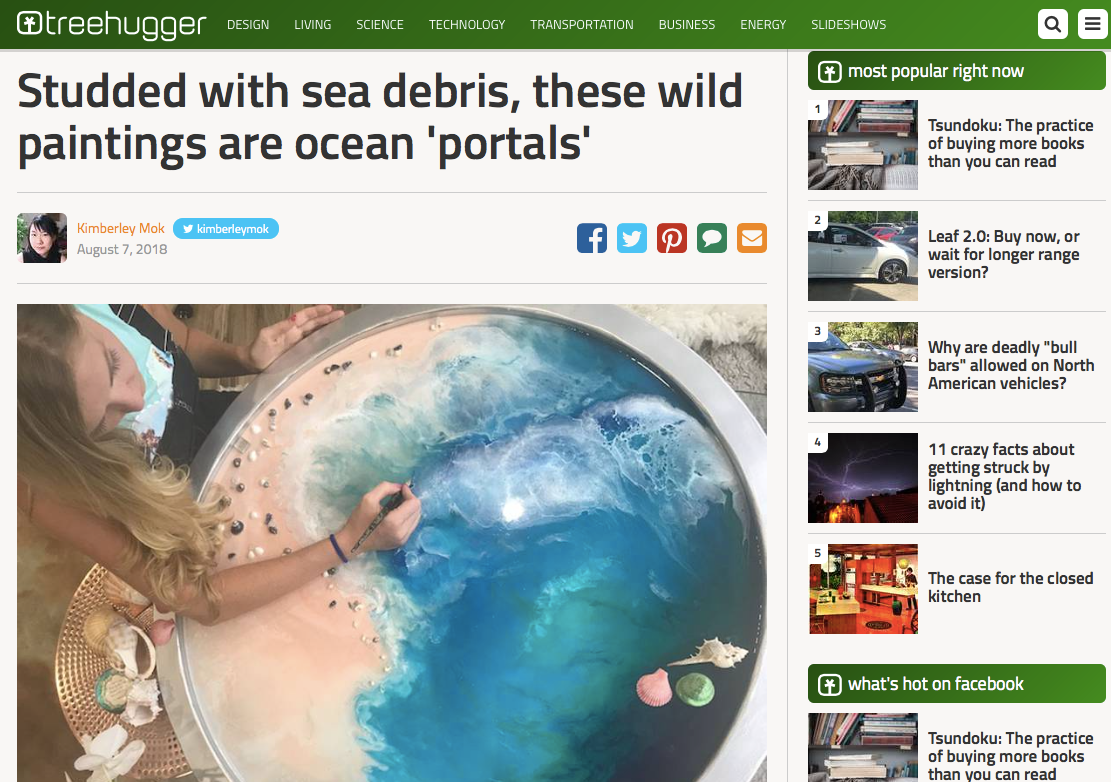 ·
Written by Marie Antuanelle
Studded with sea debris, these wild paintings are ocean 'portals'
Seeing images and statistics of plastic pollution in our oceans can be a depressing experience. But the tide (haha) may be shifting, and single-use plastics may be finally having it's 'coal moment' as solutions to the big problem are finally emerging.
But sometimes, in the middle of our despair and determination about the state of our waters, we also need to be reminded of the raw beauty of the seas. That's where art can come in: whether it's an installation on site, or looking at wonderful works of ocean-inspired art like these by Sydney-based Marie Antuanelle.
© Marie Antuanelle
With an eye on sparking important conversations about marine conservation, Antuanelle's work combines the use of resins, swirling colours and objects salvaged from the shore (stones, crystals, mirror fragments, seashells and seaglass) to create abstract works that seem to present a bird's eye view of where ocean meets land. Her goal is to "highlight how precious natural beauty is to humanity" and to "connect people to the pure beauty of popular beaches and ocean reserves, depicting them as if they were completely untouched by human presence."
© Marie Antuanelle
The eddies of azure, cobalts, turquoise and frothy pale hues are calming and soothing to look at, and Antuanelle's frequent use of round frames make her art seem like "portholes and portals to the ocean" indeed.
© Marie Antuanelle
© Marie Antuanelle
Antuanelle's connection to the water began at an early age; growing up in Northern planes and spending summers at her grandmother's home, the family spent time at the beach every day. During the difficult sociopolitical changes that were happening in the country at the time, art became a kind of therapy for Antuanelle. For her, art is a way to channel a kind of freedom that she hopes can inspire others to remember the same when they view the artworks.
© Marie Antuanelle
© Marie Antuanelle
© Marie Antuanelle
 Her creative process involves actually travelling to different locations around the world, meditating and experiencing the ocean in each of these spots, and even using aerial drones to get a view from the sky:
When I travel to some popular beaches -- which usually are quite urbanized -- I meditate there to get the feeling of the essense of the space – trying to imagine how it looked centuries before humans were there – in its wild beauty. Once the idea becomes a bit clearer in my mind, I make my research for drone photography of the place to get the feeling as if I would be flying like a bird above it and hand-paint a couple of watercolor sketches.
© Marie Antuanelle
© Marie Antuanelle
Antuanelle's love for the meditative properties of the ocean shine through in her "portals" to the ocean. She's now working with local conservation agencies on clothing designs, the profits of which will be donated to support Sea Shepherd Australia. You can also find her original artworks and prints for sale on her website or see more on Instagram.