I USE MINERAL CRYSTALS by BORED PANDA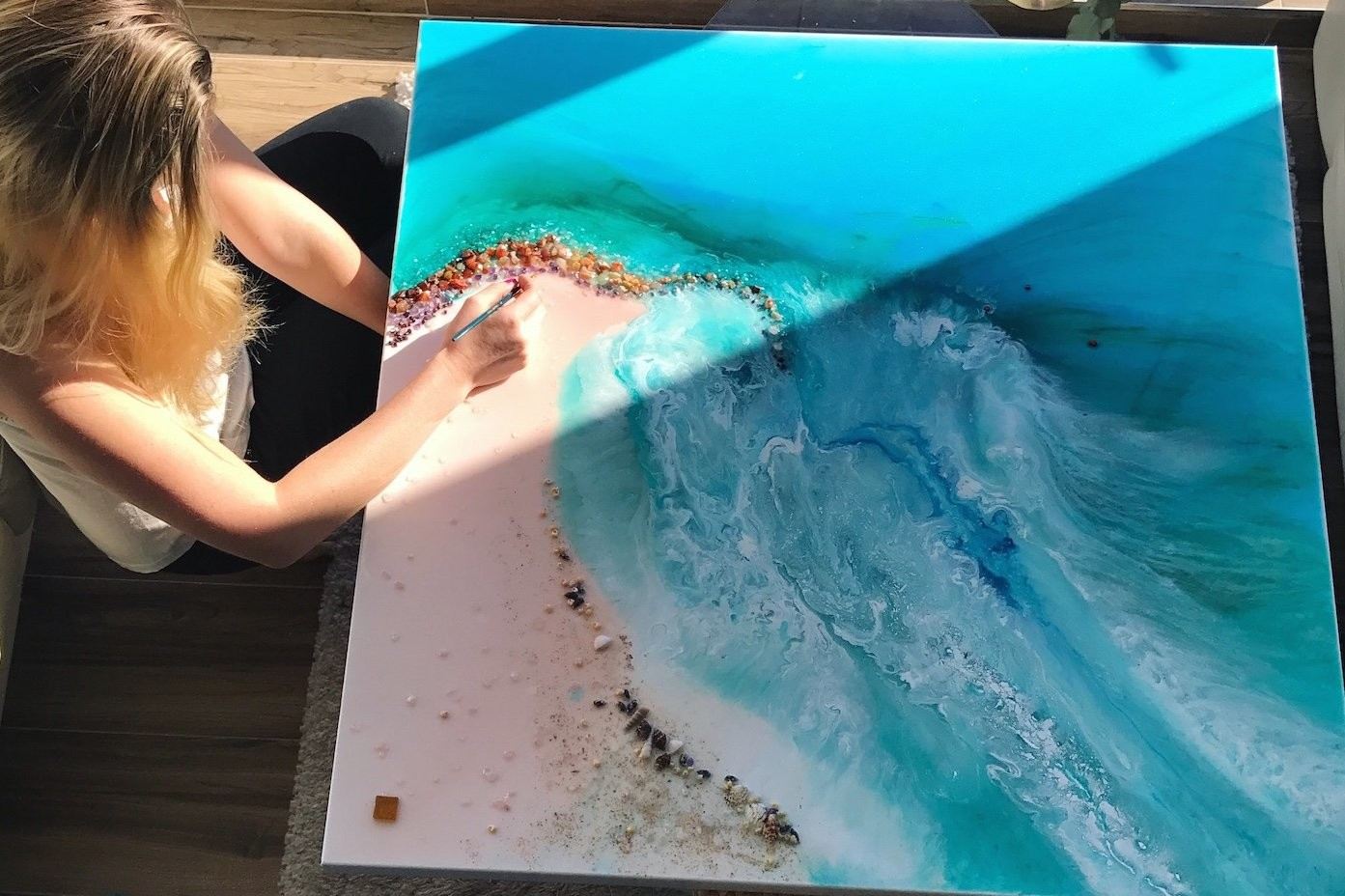 BORED PANDA PLATFORM:
I USE MINERAL CRYSTALS AND SEASHELLS TO CREATE ABSTRACT SEASCAPES
Hi! My name is Marie Antuanelle, I'm a Sydney-based seascape abstract artist. Painting is a therapeutic meditation for me, it keeps me sane and alive. What is it about?
OCEAN – TIME. Imagine soft and tranquil waves touching white sand, your body and soul. A time in your life when you felt so alive and that everything is possible. A moment you never wanted to let go. A dream that will last forever… These were my wishes when I was a girl. I want my art to empower people to FOLLOW YOUR DREAM no matter what. I am constantly trying to create a visual that will remind you of who you really are, what you want and where you want to be.
You have probably realised that life is precious, it moves fast and you can never get it back. Stop for a moment, pause, take a deep breath… Now dive in and open your eyes awake…
Using Minerals, Seashells and Liquid Glass to create something oceanic, fluid and relaxing, something that gives the feeling of a seascape in an abstract form. Usually my artworks consist of several layers of Liquid glass poured onto canvas or board and take several weeks to make. The hardest part is to understand when to stop as the this fluid medium kind of behaves on its own. It keeps moving on the board for several hours after you pour. I try to combine traditional Slavic Stone painting technique (when the whole painting is 100% made of semi-gem stones glued to the board) and pouring technique with contemporary medium – Liquid Glass.
During the year you can find my oceanic artworks on display in Chinese Cultural Centre, Mosman Art Gallery, Hunters Hill Art Gallery, Australian Maritime Museum and Westfield or Online – The Block Shop and The United Interiors.
Working predominately with ink and mixed media on wood and canvas, I create spiritual portraits which convey the flow of emotions inspired by my travels around the world and the beauty of endless beaches and waves.
Under the slogan, "Four Oceans in Seashells, Mineral crystals and Fire" I try to capture the emotions evoked in different places using fire and items that I pick along away from each location. I keep everything that inspires me on my Instagram blog.
I like to portray the texture of the ocean. Most of my paintings are oceanic, not realistic but you still have a feeling of the texture of the water. It's about expressionism, expressing the feelings rather than showing the actual nature of the ocean. To find out more visit my website (I'm having now end of year sale and free shipping).
More info: antuanelle.com | Instagram | Facebook
Photography by Damian Lloyd / 
Seasaltstudios