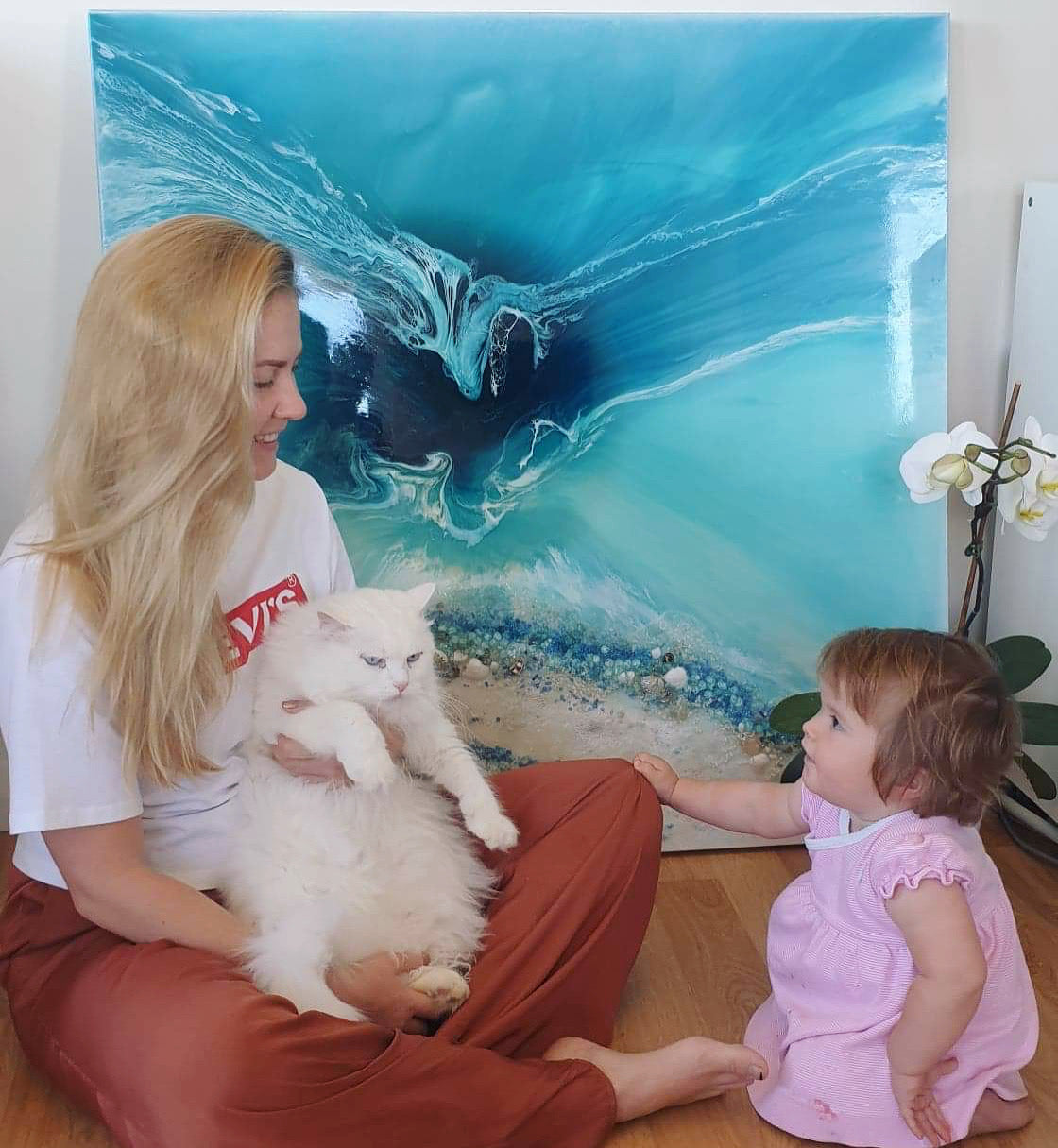 1. 
Can you explain the inspiration for your art? What other artists have inspired you?
My blue and teal Seascape Artworks are inspired by my travels around the world most famous beaches. Im drawn to the shapes and colors of the ocean. I also use drone photography of coastlines and seashores to gain inspiration for colours and shapes in my artworks. Artist that inspired me -  Frida for her unstoppable desire to thrive and Monet for his moving brushstrokes.
2. 
Have you had any formal training?
I have had education at the Tyumen State Academy of Arts and Culture.
3. 
How did you decide you wanted to pursue your career as an artist?
My grandmother had a great influence on me becoming an artist, but it was the Australian Coast that drew me to creating Seascape Artwork. I moved to Australia  eight years ago and my need to capture the enchanting view of the oceans and beaches and to portray the energy and emotions these seascapes created within me. 
4. 
Where is your favourite place to create art and why?
Currently I create my artworks in studio, it's a huge sunlit space that looks over Maroubra beach, and fills with an endless view of the ocean. I love to see the horizon as it elevates me, allows me to imagine where I want to be next. The colours of the ocean in Sydney are magnificent, it is very rare to see the translucent teal waters within the busy City anywhere else in the world. I feel very lucky as a Sydney Artist to create Custom Made Artwork in a space that overlooks such a beautiful ocean.
5. 
What is the main message behind all your artworks?
I love to create pieces that really showcases the natural untainted beauty of our ocean reserves and seascapes, completely pure and void of human interaction. I try to convey how important marine conservation particularly as an Australian Artist, surrounded by beautiful coastlines and beaches, I feel that this beauty should be protected from human interaction and preserved for future generations. I wish to highlight the preciousness of our marina areas are to humanity, trying to create a connection to the sea's wild beauty. 
6. 
Have you recreated any memories of your own into an artwork? 
My first artworks where full of memories of my childhood with my grandmother who lived near the Black Sea. My Grandmother was my inspiration and spiritual leader and so I recreated my fond memories of her in my Abstract Ocean  Artworks. 
7. 
If you had to choose a soundtrack for your art, what 3 songs would be in it and why?
Listening to music during the process is very meditative and really helps to provide a kind of fluidity and energy to my movements. The songs Uno and Venus from the artist Ludovico Einaudi and Kiarra by Bonobo  help me to relax and focus on my inner self, allowing me to produce more soft and gentle artworks. 
8. 
What's
 the best piece of advice you've been given?
My Grandmother told me to never give up, and let me never give up on my dreams and pursue my passion for art. 
9. 
Where did you spend your childhood? 
I grew up in Siberia at a time of change of the political landscape of the Soviet Union. I spent my summer holidays at my grandmother place, when I was not at an art school, and with my grandmother I learnt to make wall hangings, knitting, and the like. I was inspired by Seascape Artwork on my three-month summer break on the beach which greatly inspired my art later in my professional career. I was introduced to natural minerals and materials by my parents who collected stones such as quarts, tiger eye and many others during their mountain climbing or hiking expeditions. Creating artworks and playing with stones restored my peace of mind during some difficult periods during that tumultuous period in Serbia and allowed my interests to grow. 
10. 
Can you share what you would like to achieve in 5 years? 
Personally
 and professionally?
Personally, I am very happy where I am right now, down the track I hope to continue my success and grow my Seascape Artwork business. I would love to own a gallery and perhaps participate in international art fairs, maybe even take part in tv shows. 
written by Alana Westbrook