CREATIVE EMOTION / KALEIDOPRESS by Ak Akkawi - PART 2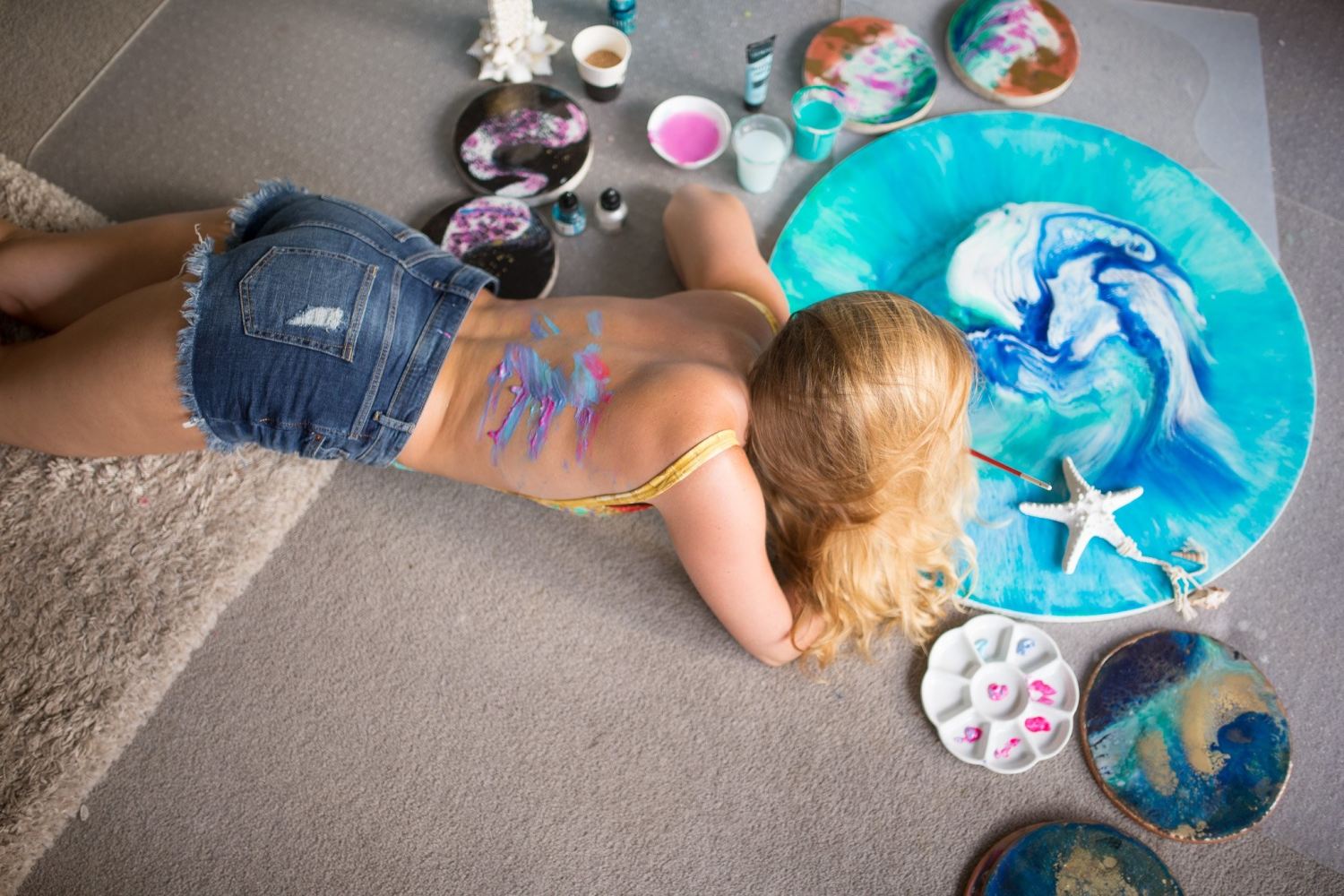 CREATIVE EMOTION / KALEIDOPRESS 
She would then pre-mix the colours till she is satisfied with the shade and tone as well as the viscosity and density of the resin. After that, she will begin the pouring process. She paints with music on and moved into a meditative state whereby, she is guided by her emotions and not her logic. She has only 30 minutes to pour the resin before it sets.
"To create one layer, you must prepare for a long time, be very focused and ready. You have 30 minutes to pour the colours, after that you shouldn't touch it. It still continues to move on the board and you have to monitor it to make sure it hasn't fallen to the floor," Marie said.
The painting continues to change after six to eight hours, and after two days, it will set and the next layer can be added. Resin is like liquid plastic or glue when it is not mixed with a colour pigment. It is translucent and you can see one layer through another.
"This creates depth and very organic shapes. What I am trying to do is make it less man-made and more natural. The most important thing is to stop at the right moment. The more you interfere, the more artificial it looks. Whereas, I want it to look spontaneous and natural," Marie said.
Knowing when to stop is crucial, during the setting process, Marie sets the painting aside for several days. She comes back to it, walking around the canvas, back and forth, trying to understand it, tweaking it to perfection and moving it from one side to the other.
'I am trying to understand which way would the painting evoke the feeling that I want. If I walk into the room and see the painting on the wall and it gives me the impression that I want, it means it's done. Sometimes I end up changing something that doesn't look right for that piece,' Marie said.
Like many artists, Marie tries to capture the fading beauty of the moment. When you see something beautiful but it dissolves and disappears in an instant, at the very moment when it is seen. Something that can't be described logically. States of perception that can only be emotionally expressed.
"Life is very short, you don't know how many days you will have left. I made the change into full time artist after working in business and being successful at it," Marie said.
"You have to enjoy the ride, do something that really evokes the feelings and emotions that you want to feel and value that."
Marie grew up in a land full of fields and forests and for three months out of a year she was sent to stay with her grandmother, by the sea. Her grandmother was the driving force which ultimately saw her make the decision to immigrate to Australia and settle in Sydney to be closer to the ocean.
"My grandmother has been the most influential person in my life. She allowed me to do everything that was forbidden. Different parents have different rules and when this rule paradigm switches off, you realise that rules can be changed," Marie said.
Coming from a traditionalist method of painting, her love of fluid artwork began when she watched a video on YouTube. This love was instantaneous, she admired the way it made her feel and this ignited her curiosity and she spent a year researching and really understanding the materials involved.
At first she found it difficult, until she found a woman in Melbourne who owned a shop that sold all the necessary equipment and materials needed to pour resin. She was the only person who spoke to her, other resin artists refused to talk with her.
"It took me about a year to experiment, to find my own way. I didn't want to look like other resin artists. I wanted to have my own style and I think I have achieved that," Marie said.
"Over time, you develop special little tricks that makes things easier. You can see them on my time lapsed videos that I post but you don't know why I did them or how I did them. These things are so tiny but they are important for the success of the piece," Marie said.
"It is all about viscosity. It is important that you see and touch the resin to understand the different affects gravity will have on the resin. It is all experimental."
With all things creative, there are elements with pouring resin that can be controlled while others that are left to gravity and the universe. With resin pouring there is limited amount of control. Marie has control over the colours, the viscosity and density of the pigments and the stability of the board.
"When you first start pouring resin, in the first five seconds you see such beauty but it is all disappearing. It is moving and you just want it to stop but it doesn't. That can be quite stressful at time," Marie said.
by 
Feature Photo by DAMIAN LLOYD / SEASALTSTUDIOS